The other day, on an awards show, I saw one of those In Memoriam lists about famous folks who passed away in 2012.  Some of the talented departed sat in the after*words chair back when I used to interview people in the middle of the night.
Phyllis Diller:  The great, trailblazing comic was in town to appear as the Wicked Witch of the West in The Wizard of Oz out at Starlight.  When I asked her if any of the jokes about her looks went too far she laughed that famous cackle and said "I loooooved them.  Like when Bob Hope who said what's Phyllis bra size?  48 Long."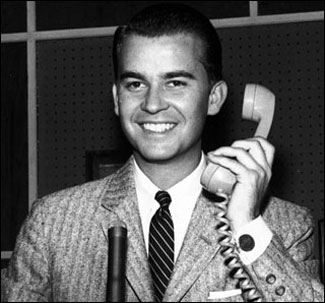 Dick Clark:  He was here to open his American Bandstand restaurant out in Overland Park.  After our chat he asked to use the phone to call a taxi.  I offered him a ride in our family car…not expecting he'd say yes to getting in a vehicle with somebody he didn't know at all.  But he did.  When I dropped him off, jokingly I said, "No tip?"  He replied, "Why do you think I rode with you instead of a cab?  But I'll give you some free fries if you stop in at the restaurant."  Then and there, I realized why he was a very rich man.  By the way, his wonderful wife bought my whole family dinner, not just fries, that evening.
Jack Klugman:  Mr. Klugman was at the New Theater with his wife-to-be.  He had no problems talking about his Odd Couple days with Tony Randall.  Mr. Randall became a first time father at age 77.  He found out about the pregnancy while in London doing the Sunshine Boys with Jack Klugman.  Mr. Klugman said there was a knock on his dressing room door and there was Tony, beaming, "The equipment still works!"
Davy Jones:  The one-time Monkee and teen idol was at Tiffany's Attic…an early KC dinner theater.  The fact is, he was still a "teen idol."  During our interview lots of women were reliving their teens as they oohed and ahhed over "their Davy."  Then, they'd look at me and wretch.
Chad Everett:  The well-coiffed star of Medical Center didn't actually grace the after*words easy chair.  I talked to him as part of  ABC New Season junkets I once did.
For awhile, here at KMBC, it was part of my job to be interested in the new season. I would get VHS tapes filled with the new shows which my wife, kids and I would watch. Then, ABC would fly me and about 19 other local TV types out to Hollywood to talk to the stars of the upcoming shows. After the weekend of chatter, I'd come back to Channel 9 and put together previews of the new shows to air on the news.
My wife had a better eye for the shows that had "HIT" potential. She knew, for example, that NYPD Blue would be a big show. I tended to be off the mark. For example, I had high hopes for a show called The Marshal starring Jeff Fahey. What? Who? We watched a show about a genie and the actress who once played Marcia Brady. We watched a show with actor William Devane about a child tennis star called Phenom. It wasn't. We watched a cop show starring Jim Belushi and another with Eric Roberts…or was that the same one? I don't remember. We watched a show that paired Betty White and Marie Osmond and another with George Foreman. Or was that Betty White and George Foreman? We watched Tony Danza in a lot of different programs. Of course, most of the shows would sink like stones by January and, sometimes, during the interviews you could tell the stars knew they were riding a turkey.
The interviews for these shows were set up like a giant Lazy Susan. Except, instead of spinning from salad dressing to celery, you'd spin from celebrity to celebrity to not-quite-a-celebrity. The ABC folks would set up five stations around the pool area with a couple of chairs and cameras at each spot. You'd get your schedule in the morning and proceed to the right area. Each of us got about five minutes to ask questions before being hustled out-of-the-way. It was interesting meeting some of the other local TV people. A couple of brothers from the Oklahoma ABC station always made sure the interview was about them. In fact, on more than one occasion they'd interview each other while the series star just looked on. There was a serious news anchor from DC who had gotten sent on the junket by accident and he had no idea who he was talking to at any given moment. Also, when he tried to get the stars of Lois and Clark to discuss deficit spending, the interview really went down hill. My strategy was to try to make small talk before the interview started by showing off a photo of my kids. I mean, if the star knew I was the father of such adorable little moppets, he or she would certainly be kind and loosen up, right? It really did work.
For example, the picture got Michael J. Fox to talk a little about his family and the fact that he has a son named Sam, the same age as my daughter named Samantha. I used the picture to remind Ellen DeGeneres that once, many years before in a satellite interview, she had promised to marry my oldest son who thought she was so funny. Well, that's not going to happen!
Most of the stars were great. Pleasant and friendly. They knew they were there to sell their shows and selves and they probably got pretty tired of all the similar questions, but, for the most part, they were terrific. However, not too many years ago, ABC decided the whole "Let's fly out a bunch of yahoos…put them up in a swanky hotel and buy all their food…plus give them gifts like an ABC bathrobe and slippers" idea was not really cost-effective. It was at that point that I really lost touch with prime-time.
Finally, George Lindsey:  I never actually interviewed Goober.  But, he did walk into the Sheraton Inn and Conference Center back when I played piano in the dining room during my college days.  I loved and love the Andy Griffith Show so, when I saw him, I started playing the good old theme song…hoping for a smile or wave or big tip!  Nothing.  I don't think it had anything to do with Mr. Lindsey's frame of mind.  I think it had everything to do with my piano-playing.  Maybe I should have whistled it instead!